Introduction: We are delighted to present the successful completion of a significant project undertaken by JFW Cabinetmakers Ltd – the manufacture and installation of a café servery for Blind Veterans UK. This remarkable charity provides invaluable support and services to vision-impaired ex-service men and women, and they recently inaugurated a new facility in Rustington, offering accommodation, training, and activities for their members.
Project Overview: This project presented several unique challenges and opportunities, and we are pleased to share the journey with you, step by step.
Project Initiation: Our involvement in this project began in May 2022 when David Smith of HomeSmiths Ltd approached us with a request for furniture pricing. Over several months, we engaged in a collaborative process, with David continually refining the design based on client feedback, and us adjusting our pricing accordingly. By March, all pricing details had been agreed upon, and we set an ambitious completion date for August, promising a busy summer ahead.
Site Visit and Template Creation: To ensure precision in our work, Danny and Owen conducted a site visit armed with 4mm MDF sheets, which we used to create templates. The café servery's unconventional size and shape made these templates invaluable in planning the project accurately.
CAD Design and Layout Development: Back in our workshop, we utilized our CAD program to develop the servery's layout, incorporating the templates we had created. This allowed us to precisely map the positions of the room's columns, determine the counter's size and position, establish radius center points, plan unit positions, and strategize worktop placement.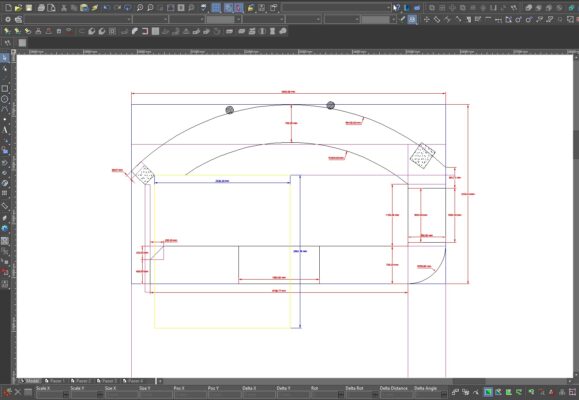 Manufacturing Process: The manufacturing phase was a true team effort, led by Danny. Initially, we crafted substrates for the countertops, which were then sent to Ideal Surfaces for cladding with Hi-Macs solid surface material. Simultaneously, Danny, Dexter, Owen, and Charlie undertook the construction of curved fronts, LED runs, cupboard units, shaker doors, curved modesty panels, and other critical components.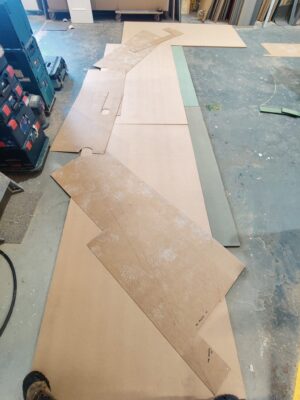 Installation: Upon completion of manufacturing, our team—comprising Danny, Owen, and Josh—headed to Rustington for the installation phase. They executed their tasks with precision and care, ensuring minimal disruption to the site.
Project Conclusion: The project concluded successfully, with the main substrate fitting seamlessly in place, perfectly aligned with the room's four columns, thanks to the templates we created. The countertops were skillfully assembled, and Josh meticulously sanded and polished them to achieve a top-quality finish.
We take immense pride in the outcome of this project and sincerely hope that both Blind Veterans UK and their visitors will enjoy the café servery for many years to come. We extend our gratitude to HomeSmiths Ltd for selecting us as their partner and entrusting us with this significant project. Furthermore, we commend Blind Veterans UK for their remarkable work and dedication to our deserving veterans.
This project showcases our commitment to excellence and our ability to meet unique challenges with innovative solutions. We look forward to continuing our mission of delivering high-quality craftsmanship to our valued clients.