JFW Cabinetmakers Ltd is proud to showcase one of our recent projects, where we collaborated with HomeSmiths Ltd to create bespoke fitted furniture for Blind Veterans UK's new centre in Rustington, UK. The centre provides a range of services and facilities for blind and visually impaired ex-service men and women, including a sports bar, a library, and a Café servery.
One of the highlights of the project was the sports bar where we manufactured hand painted wall panelling and trophy cabinets with glass doors. The wall panelling has a classic design that enhances the room's elegance and warmth, made from MR MDF in sections with panel moulding for a shaker style. The trophy cabinets showcase the blind veterans' achievements and memorabilia. The glass doors have a matching spray paint for a seamless look. We are extremely proud of the rooms high-quality and detailed look.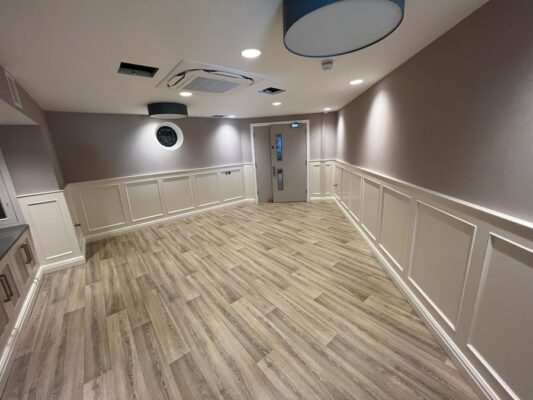 Another challenge we faced was to adapt an existing unit from the blind veterans' previous premises to suit the new room. The unit was being used as an AV unit at their existing building in Brighton. Using the existing doors we manufactured new cabinets to take the AV uquipment. We also replaced the old top with a new Corian solid surface top, added new divider and end panels to create storage the desired in-keeping look, we also re-painted the whole unit in a fresh colour. The result was a classic and functional piece of furniture that blends well with the rest of the room.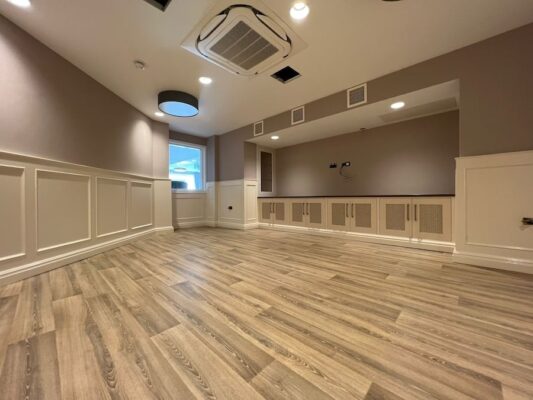 All the furniture was installed by our team of experienced cabinetmakers, who ensured that everything was fitted perfectly and securely. We are delighted to have been part of this project and to have contributed to the comfort and well-being of the users to the centre. We thank HomeSmiths Ltd for their design expertise and putting us forward for the project, we enjoy every job we do for them. We would also like to thank Blind Veterans UK for their trust in our work.
If you are interested in our services or want to see more of our projects, please visit our website at jfw-cabinet.com.