Good afternoon everyone, I hope you're all managing to enjoy this hot weather….. At last!
Today I want to share with you a project we are very proud of, the cafe servery for Blind Veterans UK. This amazing charity provides support and services for vision-impaired ex-service men and women. They recently opened a new centre in Rustington, where they offer accommodation, training and activities for their members.
This project is a biggie so I'm going to break it down into various bitesize sections, I wouldn't want to go on too much….. We were contacted by David Smith of HomeSmiths Ltd back in May 2022 and he asked me to price some furniture, we were going back and forth for a time with David making revisions for the client which I would re price, Prices were agreed in March with a completion date of August, this would mean a busy summer for us!
Danny and Owen made a site visit to the centre, they were armed with 4 mm MDF which would be used for templates, as you can see from the image below it's both rather large and a "funky" shape!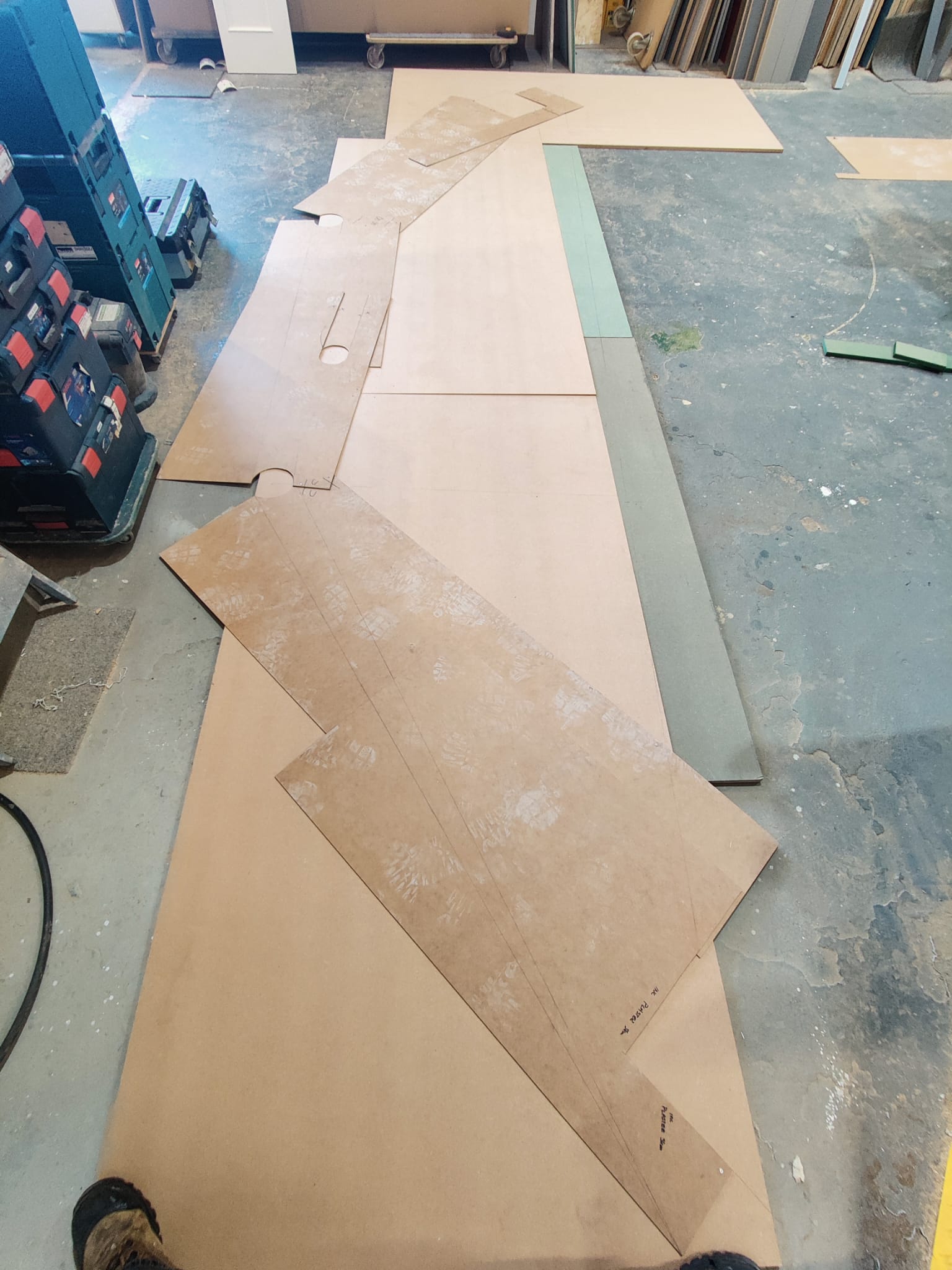 I used our CAD programme to develop the layout of the servery, using the templates shown above. The template allowed me to accurately plot positions of the columns in the room which then allowed me to figure out the exact position and finished size of the counter and also radius centre points, positions of units and also how the worktops would work.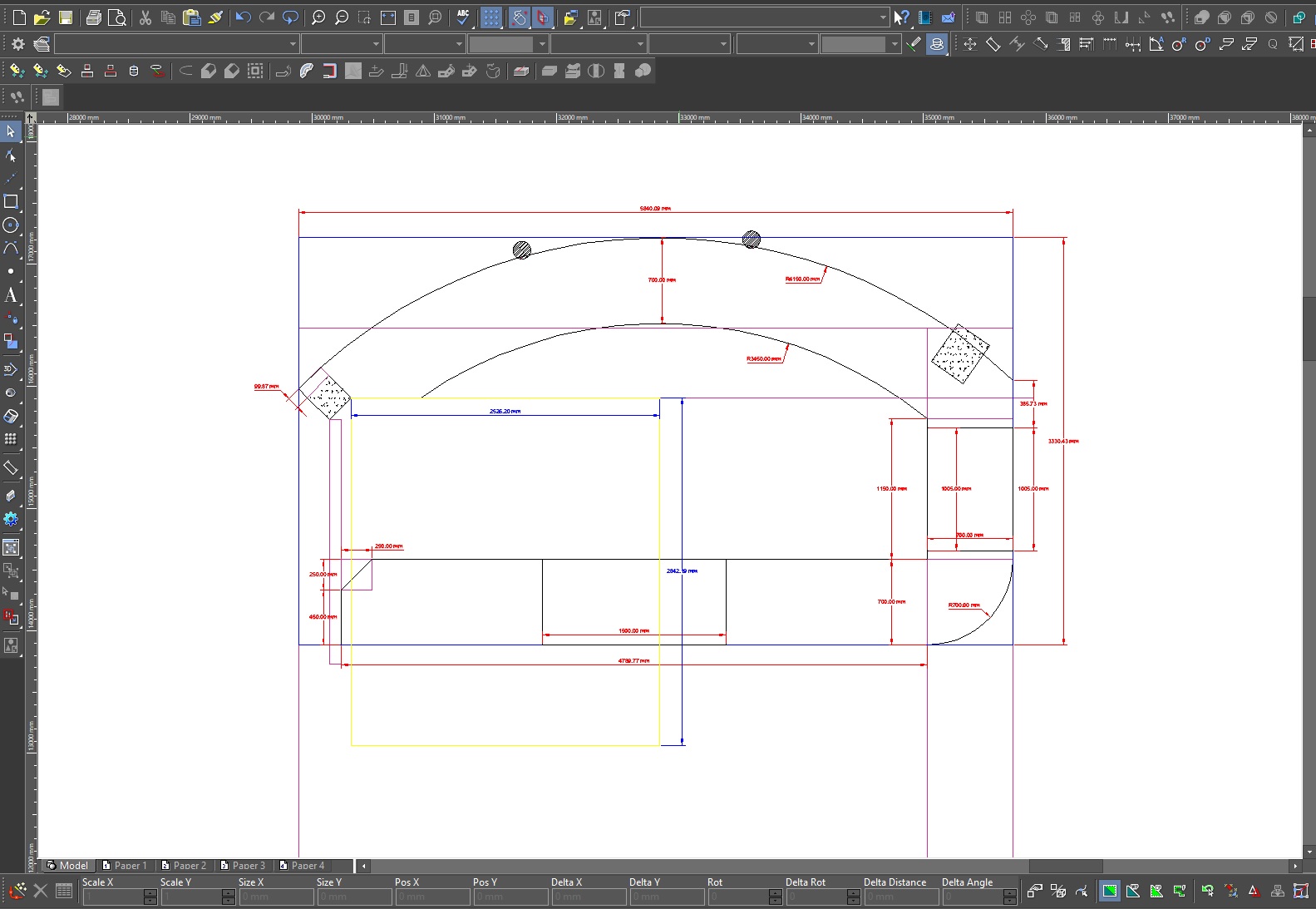 We then manufactured the servery in our workshop, this was a huge team effort with Danny heading it up, the first job was to produce the substrates for the tops which were taken to Ideal Surfaces so they could be clad with a Hi-Macs solid surface. While the tops were being clad, Danny, Dexter, Owen and Charlie carried out the main construction of curved fronts, recesses, LED runs, cupboard units, shaker doors and curved modesty panels.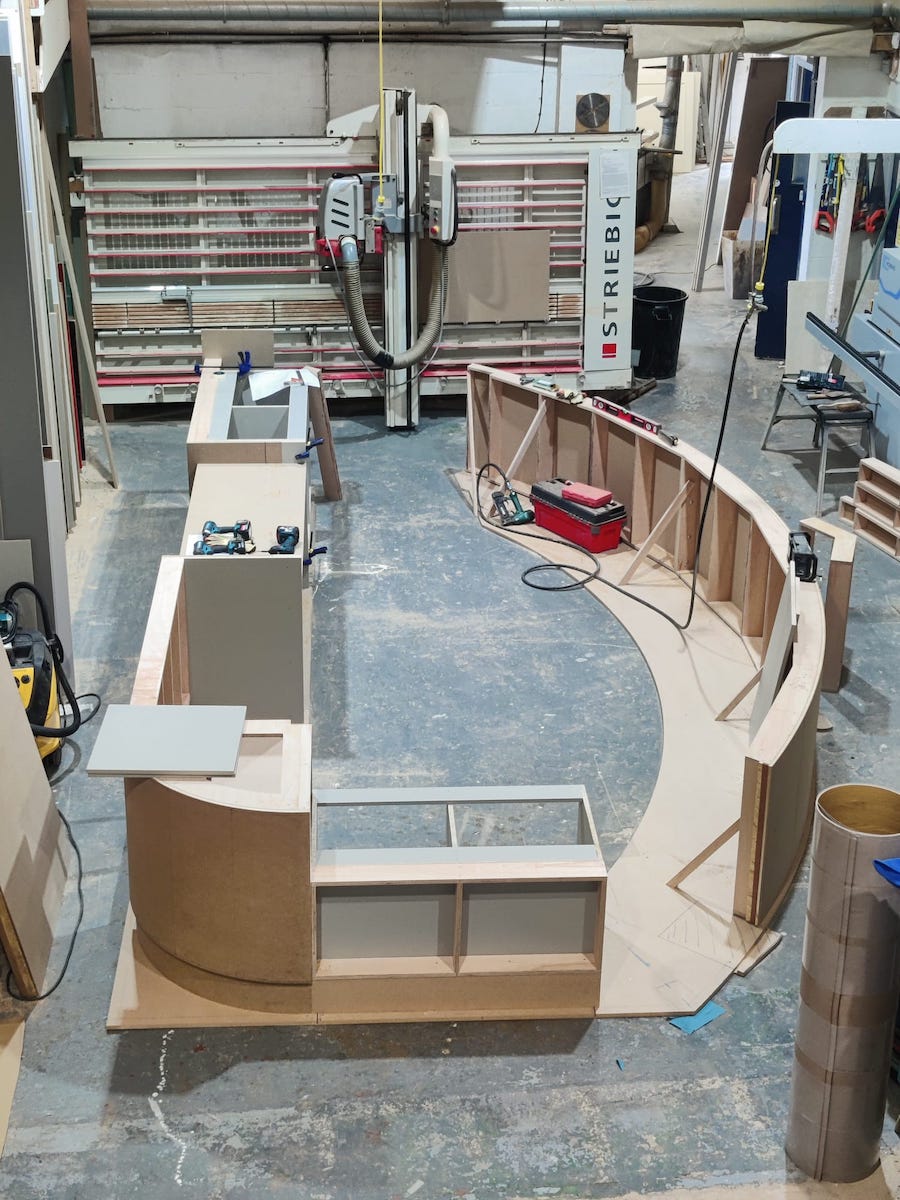 Once completed, we installed the servery in the centre, Danny, Owen and Josh spent the week down in Rustington working efficiently and carefully, making sure to cause minimal disruption to the site.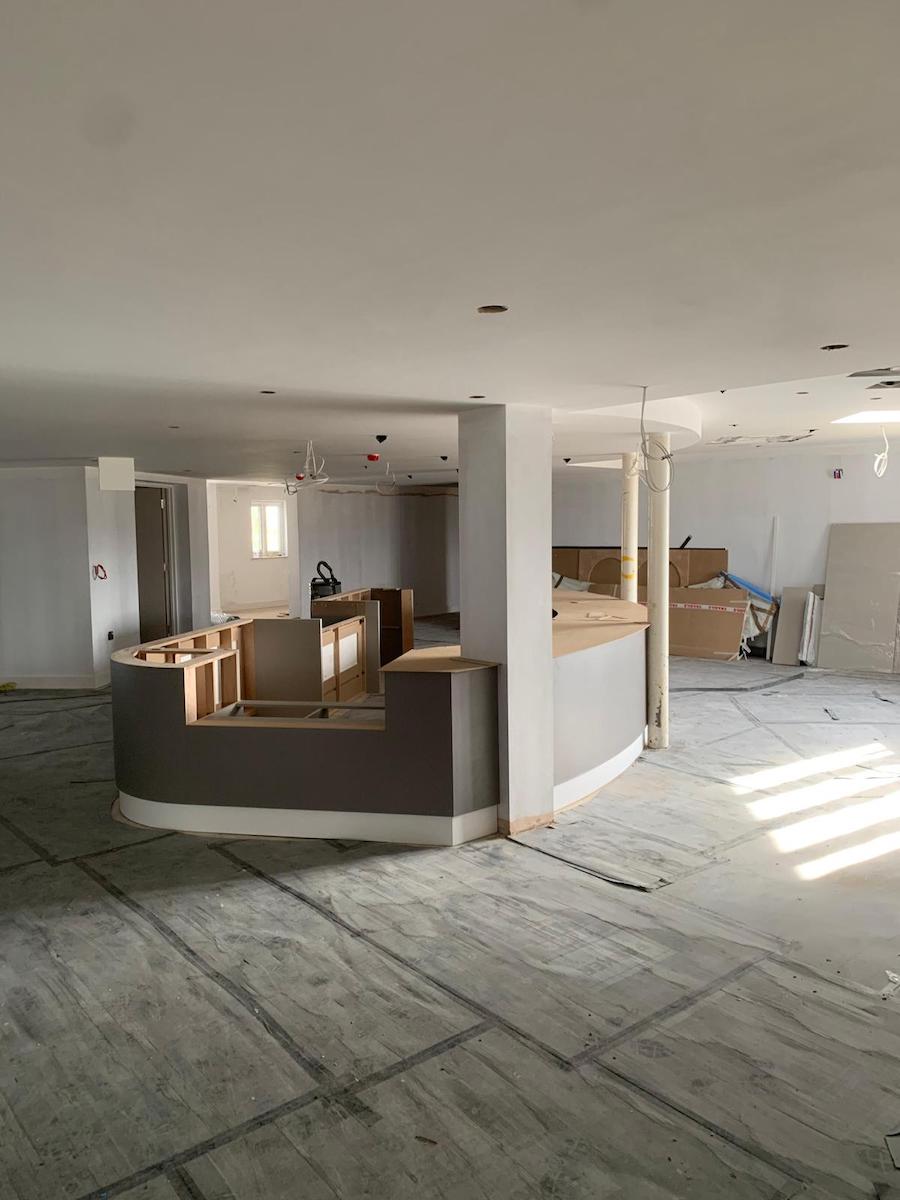 Everything went really well, after a bit of manipulation the main substrate fit perfectly in place, hitting each of the 4 columns, taking templates really paid off! The tops went together brilliantly and Josh took his time to sand and polish the tops leaving a top quality finish.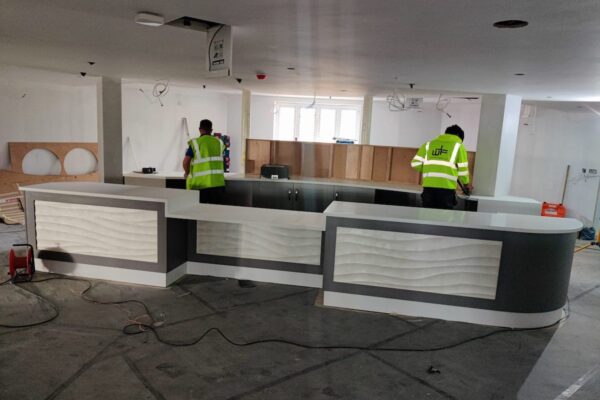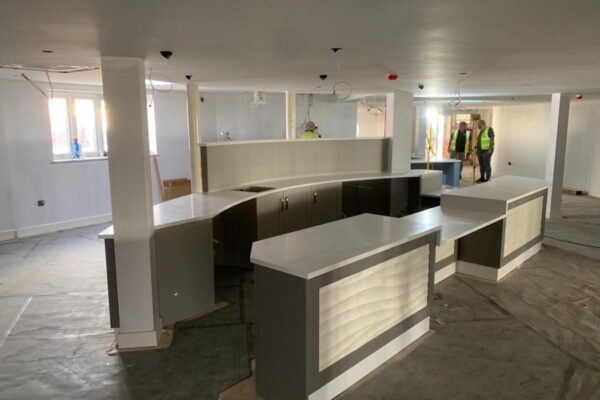 We are very happy with how the project turned out, and we hope that BVUK and their visitors will enjoy using the cafe servery for many years to come. We want to thank HomeSmiths Ltd for choosing us and trusting us with this project, and Blind Veterans UK for their amazing work and dedication.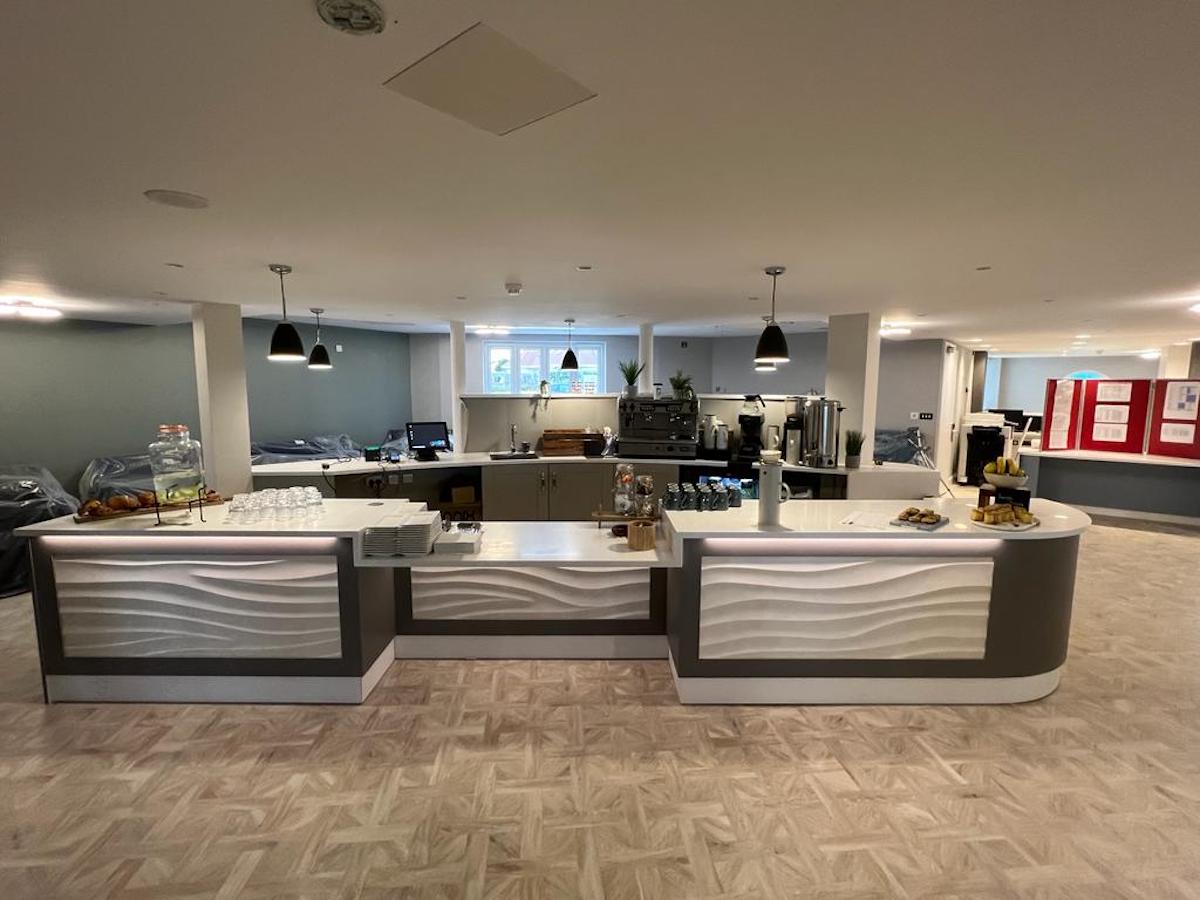 Thank you for reading and have a great weekend!
Adam